Instagram Essentials
Learn how to grow and monetize your Instagram account. EVERYTHING you need to know about Instagram.

For bloggers, businesses & social media experts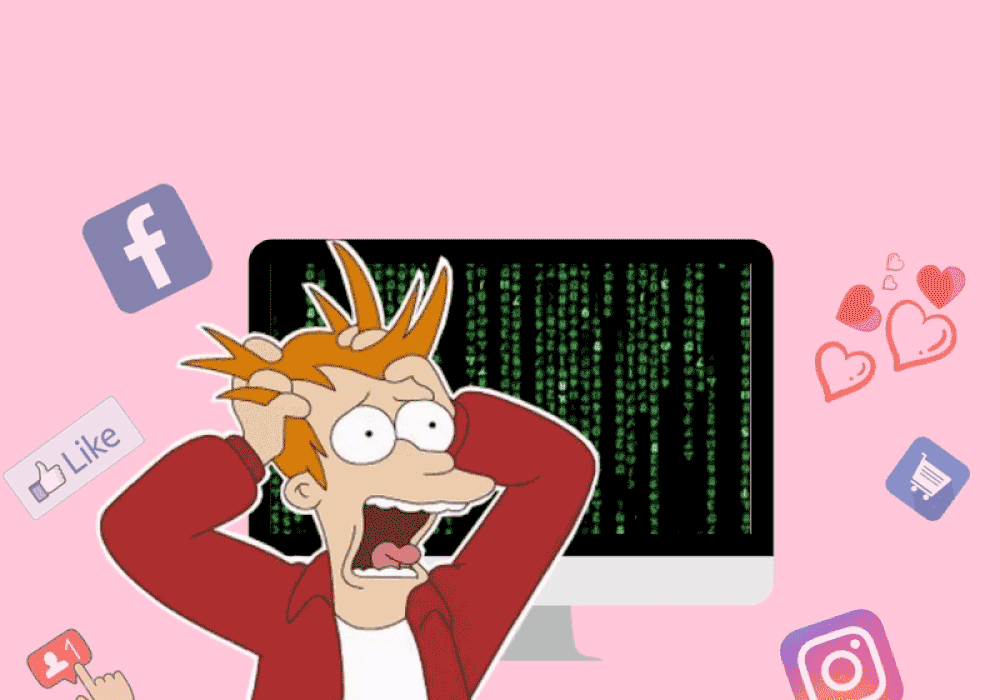 So many times you've been told by various Instagram marketing consultants: "If you open an Instagram account and showcase your products/services in it, CLIENTS WILL COME…"
And so you've:
Opened an Instagram account;
Wrote and rewrote your BIO to perfection (or so you thought…);
Spent hours on Canva, designing your feed;
Consistently posted "something" every day;
Added 30 hashtags to each post;
Regularly boosted all your posts, etc.
Hoping that IF you keep doing that, eventually orders will start pouring in but it never happened...
You were left alone to watch other people in your industry sell on Instagram like crazy and wonder: "What am I doing wrong?"
We understand how frustrating this might feel!
Right now the Instagram algorithm might seem like a mysterious black box that only few can decode and master. But what if we tell you that you don't need to be a celebrity, you don't need to hire a professional Social Media Manager or spend thousands of dollars on advertising to supercharge your Instagram account? You ONLY NEED 15 HOURS to master Instagram and start monetizing it! Take a look at some of the results we were able to deliver for our clients using techniques and approaches that are described in our INSTAGRAM ESSENTIALS course.
What you learn
How to gain thousands of REAL followers from a single collaboration with a blogger.
What to write so your followers start saving and sharing!
How to make posts bring you HUNDREDS of new followers and THOUSANDS of profile visits ORGANICALLY.
How to increase the number of message requests in your DM.
How to get a stable page growth month over month(organically).
Learn how to get a SHARP page growth with ads help.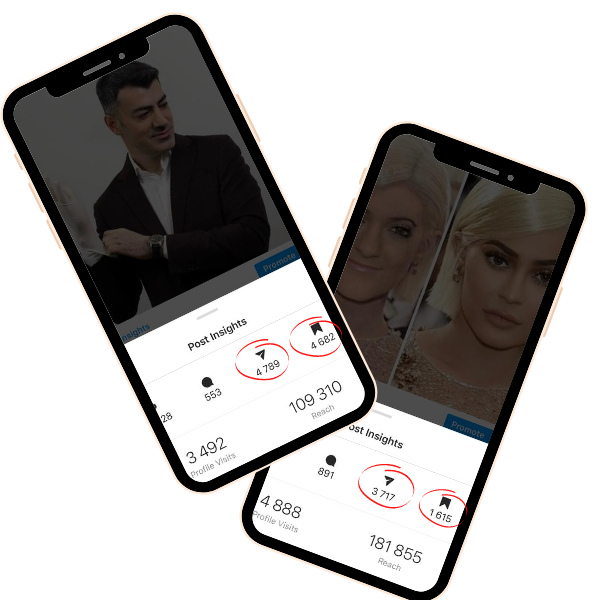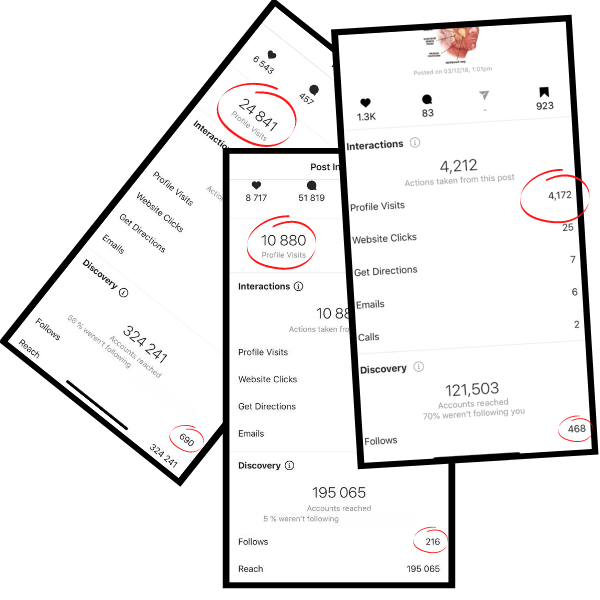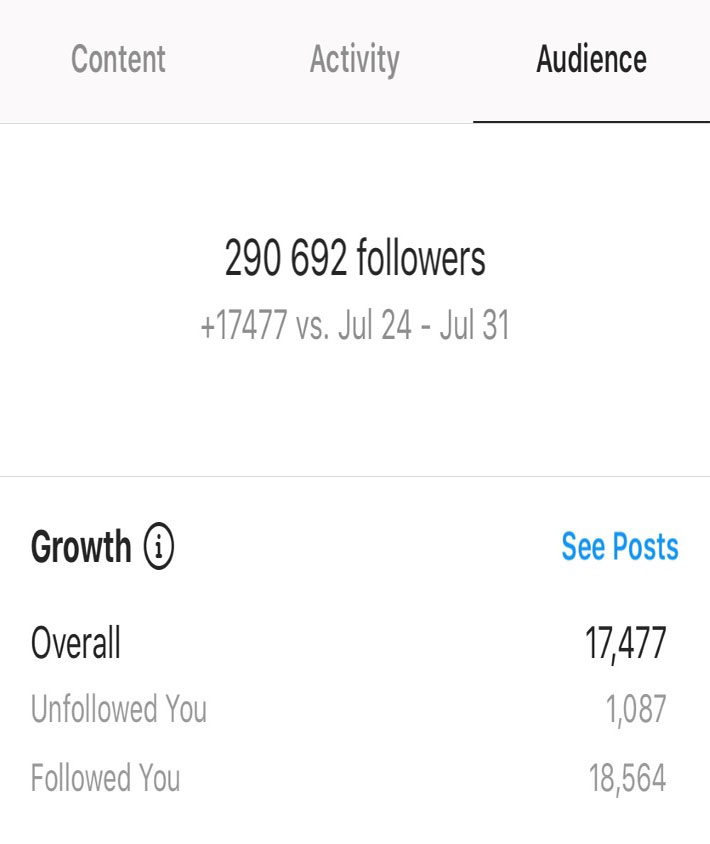 Real cases of our clients: New followers, a lot of enagement, many direct messages.
Think for a minute, what would happen to your business if you were able to make Instagram show your products/services to your target audience, bring you new leads and generate sales every day? Is it worth spending 15 hours to learn high yield content with easy to follow steps? Join the course today and transform the way you market on Instagram by the end of the week!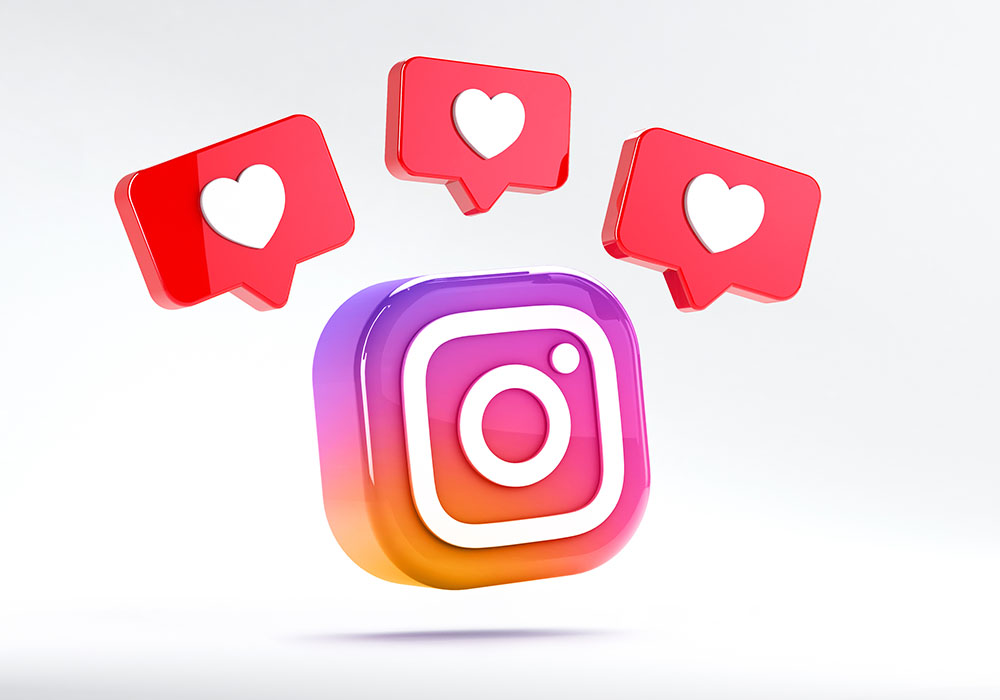 Course plan
MODULE 1: GET PREPARED (For begginners)
1.1 What can Instagram do for you?
•
1.2 Choosing your Instagram niche.
•
1.3 Identifying your blog/product/service USPs (Unique Selling Points).
•
1.4 Getting to know your target audiences and competitors.
•
1.5 Personal branding as a cornerstone of your Instagram strategy.
•
1.6 Top 10 Instagram trends.
MODULE 2: INSTAGRAM BASICS (For begginners)
2.1 Instagram safety.
•
2.2 Choosing your account type.
•
2.3 Choosing your profile picture.
•
2.4 Instagram search optimization: how to make your page easy to find.
•
2.5 SEO trick to make your Instagram page searchable on desktop.
•
2.6 A Bio that makes your page irresistible to follow.
•
2.7 Link in Bio: how to use it wisely.
•
2.8 Address field and contact details: the trick you didn't know about.
•
2.9 Instagram algorithm. How to get to Top Posts. 10 things that drop your Reach. 10 tricks to boost Post Reach.
•
2.10 Instagram Insights: how to learn from it, understand it and use for your benefits.
•
2.11 All formats of Instagram content.
•
2.12 All types of Instagram engagement. Most important types of engagement.
MODULE 3: CONTENT STRATEGY (FOR INTERMEDIATE LEARNERS)
3.1 5 must have types of your content: how to use them. 5 rules of perfect content strategy.
•
3.2 UGC: what is it?
•
3.3 Carousel post: when to use it?
•
3.4 Instagram Highlights: how to use them effectively.
•
3.5 Formula for your Instagram Stories success.
•
3.6 What is gamification and how it can help you to boost your engagement?
•
3.7 Instagram Reels – the most important content format.
•
3.8 Instagram Live and IGTV: how to use it. Proven tactic to boost your Page Reach with help of IGTV videos.
•
3.9 Boosting Engagement: what content to post for maximum likes, comments, shares, saves and other interactions.
•
3.10 How to create your bank of content ideas.
Bonus 1: The 15 best tools for content scheduling, page managing and analysis.
Bonus 2: Template of your monthly content plan.
MODULE 4: THE VISUAL CONCEPT OF YOUR FEED FEED (FOR INTERMEDIATE LEARNERS)
4.1 An eye-catching, cohesive and consistent Instagram feed: 5 things that affect the look of your feed.
•
4.2 Covers for your Stories Highlights, video posts and Reels.
•
4.3 Memojis for Stories and Reels.
•
4.4 Create templates for your posts and Stories in Canva.
•
4.5 Your home photo studio: the tools to get for successful blogging.
•
4.6 7 Flat lays 101.
•
4.7 10 basic rules for perfect photo shots and photo editing from top bloggers.
Bonus 3: The Best tools for photo and video editing.
Bonus 4: The Best tools for beautiful Stories.
MODULE 5: COPYWRITING AND STORYTELLING (FOR INTERMEDIATE LEARNERS)
5.1 3 secret ingredients of highly engaging post captions.
•
5.2 The "ASA" formula for your post caption: easily write a likable caption that sells.
•
5.3 Topics that make your followers talk in comments.
•
5.4 Fonts for your post captions: how to change them and when you need it.
•
5.5 Hashtags: how to use hashtags as your content rubricators.
•
5.6 Storytelling to boost your Engagement and Page Visits.
Bonus 5: 50 post ideas for your Instagram.
Bonus 6: Perfect post caption check-list.
MODULE 6: EVERYTHING ELSE YOU NEED TO KNOW (FOR INTERMEDIATE LEARNERS)
6.1 How to develop your personal style for Instagram content.
•
6.2 How to create viral content.
•
6.3 Instagram shopping tags and booking appointments via Instagram: setup.
•
6.4 The Easy way to download Instagram content.
•
6.5 Where to find your perfect Social Media manager, how to choose the right one and how to track their results.
•
6.6 Support pod: what it is and how to use it.
•
6.7 Content calendar: why you need it.
•
6.8 Instagram Face Filters: create your own.
•
6.9 The Close Friends list on Instagram: how your business can benefit from it.
•
6.10 What are Instagram Guides and how to use them?
•
6.11 Video Series.
Bonus 7: List of active support pods.
MODULE 7: INSTAGRAM PAGE GROWTH (FOR ADVANCED LEARNERS)
7.1 List of all methods to gain followers: divided by efficiency, price and time.
•
7.2 Hashtags and geotags: right way to use these. Shadowban – how to find out you've been shadowbanned and how to fix it.
•
7.3 Effective commenting strategy: get new followers with one comment.
•
7.4 SFS, barters and free "featured by".
•
7.5 Massliking, massfollowing, masslooking and direct messaging: what it is, how to use it safely and effectively.
•
7.6 Instagram challenge: providing value in exchange for following.
•
7.7 Make your posts go viral with situational marketing.
•
7.8 4 types of Instagram giveaways.
•
7.9 Word of mouth: the way to get the most loyal followers.
•
7.10 How to find the right blogger to work with, how to pitch a collaboration and how to track the results.
•
7.11 The easy way to find Instagram bloggers for a collab at NO fee.
•
7.12 Tagging in Stories to gain new followers and clients.
•
7.13 Lead magnet: why you need it and how to create it.
Bonus 8: Common banned and restricted Instagram hashtag.
Bonus 9: Ready-to-use pitch to send out to bloggers.
Bonus 10: Checklist: get your Instagram account ready for the promotion.
Bonus 11: The Art Of Collaboration With Bloggers: Step by step guidebook .
Bonus 12: Research: Instagram Giveaways with celebrities - to sponsor or not.
Bonus 13: Best influencer marketplaces and platforms.
MODULE 8: GROW YOUR PAGE WITH INSTAGRAM ADS (FOR ADVANCED LEARNERS)
8.1 How to launch Instagram ads on Instagram page via Facebook Ads Manager. Post boosting.
•
8.2 How to exclude your current followers from target audeicne when you boost your posts.
•
8.3 Optimizing your collabs with bloggers: How to get the most out of any partnership.
•
8.4 Video Lesson for Instagram Ads.
WHO IS THIS COURSE FOR
Don't know if this course is right for you? We designed it to be useful for:
Freelancers & Social Media specialists

If you want to build your career in social media, remember: if you know how to bring sales and followers to your client, you are priceless. What we teach will make you indispensable. It will be useful even if you're an experienced Instagram specialist. The course is based on our combined years of experience. You'll learn tricks you've never heard of before.

Business owners

If your marketing budget is limited and you can't afford to hire an agency to run your Instagram, learn how to do it yourself! Or get this course to educate your social media manager. Investing in yourself/ your team members always pays huge dividends.

Instagram bloggers

Do you dream of getting more followers and monetizing your blog? Then learn how to boost your Instagram followers and engagement growth! If you sell your own merch or have another type of business, this course will help you understand how to boost sales.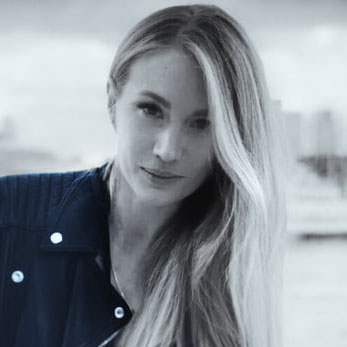 ABOUT THE AUTHOR
MASHA VARNAVSKI
Social Media/ Digital Marketing Manager with 10+ years of experience
CEO of The Setters Social Media Agency
Former Head of Social Media for LightInTheBox, leading international e-commerce company, $86M US IPO
Сorporate training sessions for Allergan APCs and ADCs
Facebook Certified Ads Planning and Buying Professional
Experience managing multi million dollar advertising budgets
Social Media revenue increase from 160% to 320% (across projects)
Directed launch of 12 social media channels
Total followers gained over 15M
100+ satisfied clients
WE ARE FACEBOOK CERTIFIED
Learn from Facebook and Instagram professionals!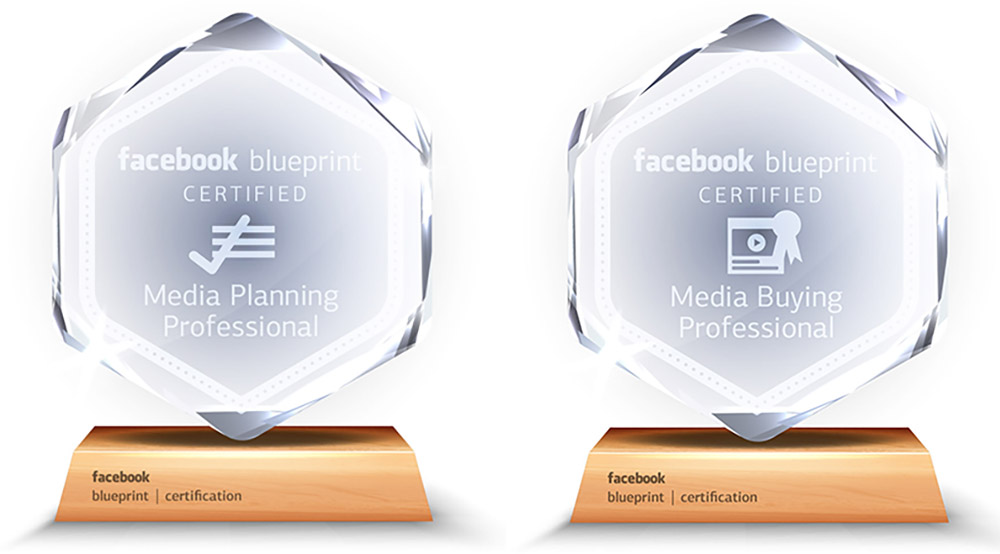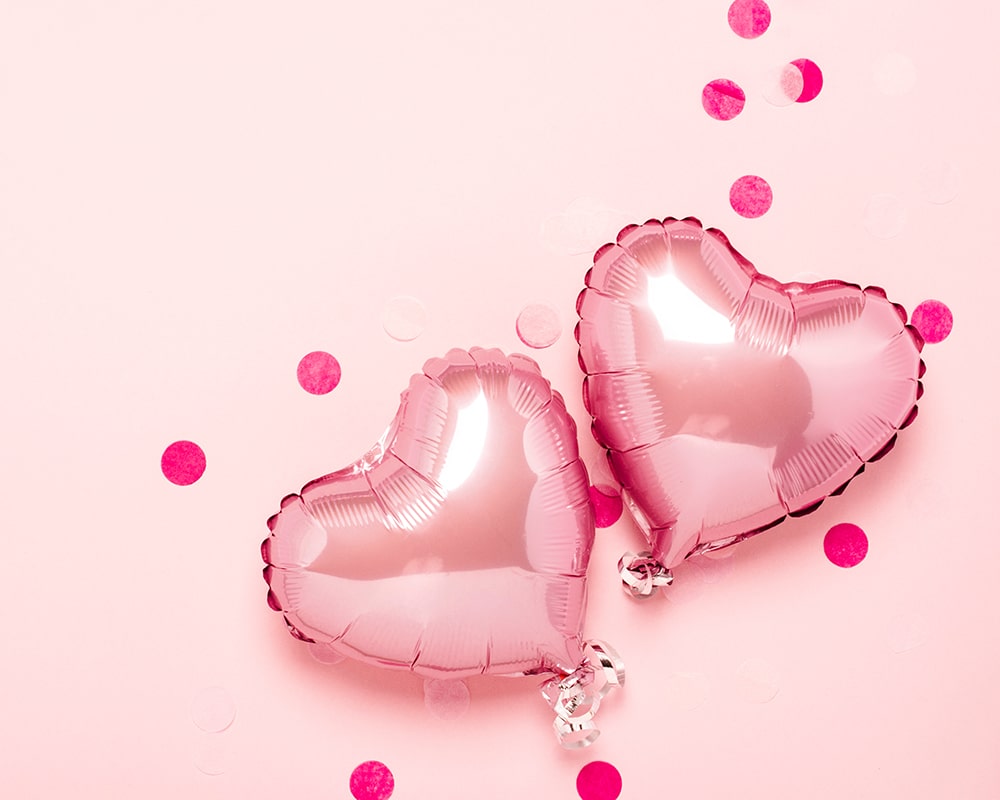 REVIEWS ON OUR INSTAGRAM COURSE
Loving the Instagram Essentials course! Will start implementing as much as I can soon!
I want to say BIG THANK YOU for the course Instagram Essentials and also for your generosity that allowed me to finish the course with some delay because of my situation.
I must admit that in the beginning, I did not consider the course seriously and thought it would be just an introductory to buy the next level.However, I was amazed at the amount of useful information and the volume of the course! I got so many tips so now I need time to digest it and implement to my business account :) Thank you once again!!!
I'm loving the course. Im from Colombia and i was worry about the english, but is so easy to understand, it has a lot of information that i even think i have to make in my business profile. The examples of the account in every lesson are perfect to understand the content. I hope this will help me to improve in many ways!! Thank you so much!!
My name is Lizz. I'm one of the certified advanced Esthetician's at VIDA. I've recently been taking Instagram Essentials Course to help me gain more information on how to make this page the best it can be. And let me tell you I loved the course! So much good info about Instagram top trends, showing more of what you (viewers) want to see, and reinforcement of being your authentic self ❤️
Thank you so much for creating your Instagram social media course! I am learning so much & LOVING all of the valuable information that's shared in there. It's easy to be overwhelmed with knowing the latest & greatest but what I greatly appreciate is how simple & easy you make it to understand. I hope you'll do more of these so I can stay in the loop as I grow my businesses. Thanks again - you & your agency are amazing!
I consider myself pretty experienced with social media management, but I was pleasantly surprised with the little pearls I did pick up with this webinar. For example, the little things like the apps to use for hard line breaks in your post, lead generation apps (LinkTree/TapTree) and the deep links. I am excited to implement those little things to make our profiles more efficient.
Thank you for the exceptional course...every word of my feedback was true..hope, I can attend your next courses soon!
Our passion is making Instagram accounts the best they can be in their field, whether its aesthetics, e-commerce or fitness we have a strategy to get to the top. Our record so far is 600,000+ followers gained for 1 account, and we can't wait to beat it. Trust our experience – this course will teach you strategies and tactics we have developed and use for our clients every day.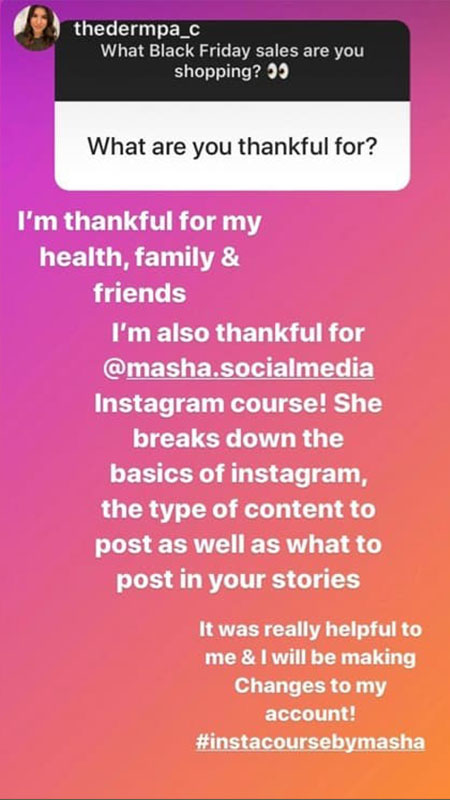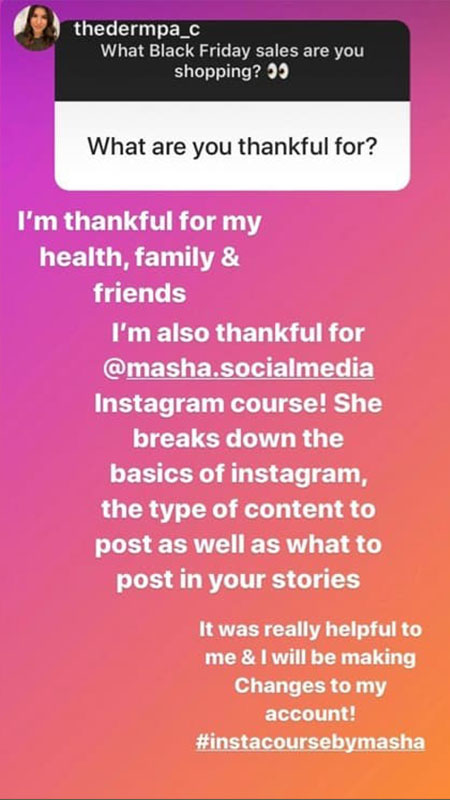 Here are some pearls you will find in our INSTAGRAM ESSENTIALS course
Instagram BIO hacks you wished you knew earlier Simple tricks that can increase your account visibility 3x (Module 2)
What, when and how to post to consistently be seen by your followers and featured on Instagram Explore Your complete content cookbook that will make your followers hungry for each new post form you (Module 3)
Top strategies to make your visual content POP How to build a visually cohesive feed without spending $ on a professional photographer (Module 4)
How to turn your followers into chatter boxes Receive meaningful comments for each of your posts by choosing the right content to get people out of their comfort zone and commenting (Module 3.6)
Everything you need to know to boost your account growth All the growth strategies out there: just pick what suits you and watch your account grow (Module 7)
Instagram Ads mastery Learn how to reach new audiences based on interests, location and demographics. We have some secret hacks for you in Module 8!
WHAT ELSE?
We want to ensure that you get maximum benefit from our course and stay in-the-know even after you complete it. That's why, in addition to the course we offer:
Online support

Read the material, watch the videos and leave any questions you get along the way right on our educational platform. Our social media experts will reply to your questions within 48 hours.

Our guarantees

We are confident in our quality content and clear delivery, if you are unhappy with the course, let us know by email within the first 2 days and get all your money back.

Price & course tiers

Instagram Essentials $85 (20 days access)

Instagram Essentials+ $135 (unlimited access to all current and upcoming lessons)

Regular updates

Our course is always up to date. Instagram launched a new feature? The tips on how to use it will be immediately added to the course. Updates are available for Instagram Essentials+ only.
Back